LESSON SERIES
Master Key System
The Master Key System teaches the ultimate principles, causes, effects and laws that underlie all attainment and success. You will unlock the secret behind the "Law of Attraction" and fully utilize the natural laws of the Universe for your life.
24 Chapters

48 Handouts

Paperback Edition

Access to Audio Book Files
If you want to...
Unlock your hidden potential

Solve problems in your life with ease

Magnetize yourself to good health, abundance, and your
ideal environment
Eliminate fear and worry from your life
Develop the "Millionaire Mindset" that will help you
earn and accumulate more money
Hands on Exercises
To assist you in discovering how you can become all that and much more from this Master Course Study.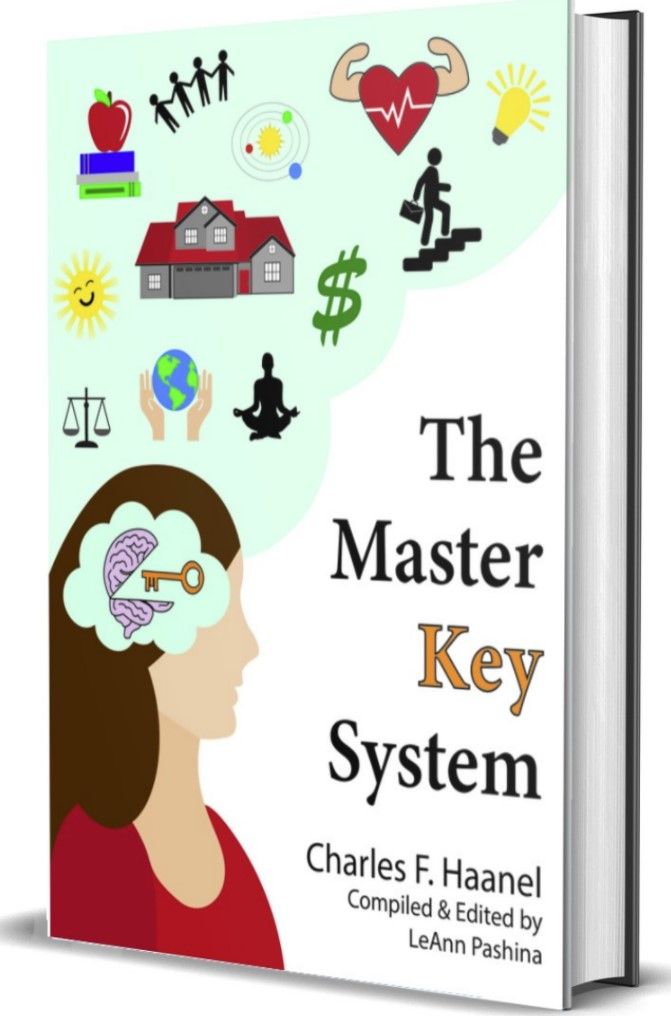 Meet the Facilitator:
LeAnn Pashina
Is a speaker, author, and trainer with a passion for helping people
confidently present their message, training why people buy, and how to use that
knowledge with prospects and clients to achieve the desired results – increased sales!


With over 30 years in corporate sales, LeAnn has experienced directly how
communication and winning the sale is all in & "how you say it."; She is an expert in sales
and communication skills training, including how exceptional communication skills
accelerate trust, build instant rapport, and positively influence decision-making behavior.
She empowers entrepreneurs and business professionals to create even more success
by clarifying the sales conversation.

Most people are trained to only focus on what they
say and not how they say it. Non-verbal communication is the hidden tool that provides
the added edge in your business.


LeAnn is a devoted student of the Master Key System, completing the course several
times both as a student and teacher. Her recent published edition of the book includes
additional information not published with the original version and never before published
illustrations of each exercise. She is a professional voice-over artist and has produced
the book in audiobook format. It is the only version currently available by a female
voice. Her narration is powerful as she voices the concepts bringing them to life for the
listener.


LeAnn Pashina is president of Creatively Communicate, Inc.


Training others that influential communication is all about HOW you say it!
kind words by students
What our previous students love about the Master Key System!
Prakash Kabe
Founding Member, Global Strong
I am an avid tennis player and have always had difficulty visualizing myself, hitting my shots with multisensory imagery necessary to realize the most significant benefit from visualization. As a result, I realized my predicament was not some shortcoming but that I haven't put in the time and practice necessary at visualization.
This is too powerful a system to go through just once. Each time becomes more powerful and beneficial. A good instructor like LeAnn and group participation doubles and triples the benefits of doing it independently. My goal is to become a master visualizer and use this skill to be a top tennis player and achieve my goals in every area of my life.
Adam Schizkoske
President of Global Strong
This was the most intriguing course that I have ever done, and I have completed many courses. Amazingly, this was published in the early 1900s. I understand why Napoleon Hill studied and applied the theories in writing his book Think and Grow Rich. The in-depth and insightful discussions on how to implement the information were extremely valuable. I will retake this course!
Pamela Allen
Certified ThetaHealer,
Paradigm Shift Your Beliefs
Being a student of the Law of Attraction and having watched 'The Secret' numerous times, I was amazed at just how much I could fine-tune my manifesting abilities after studying 'The Master Key System.' This is a definite hands-on instruction that will take your abilities to the next level.
Marta K
Founding Member, Global Strong
The book is fascinating! Having discussions around each chapter and drawing conclusions on applying the practical information to my own life helped me get in touch with my authenticity and authority. The book is a key to those inner whispers that know there is more to our ability to live than what meets the eye. The practical exercises are essential to follow as they help the reader assimilate the information one discovers with each chapter. I look forward to the course again to gain new awareness.
Created with